So after a month's worth of work and a whole heap of stuff done during the week before Sydney Animania, I finally realised my dream of cosplaying the main powers in the War of Austrian Succession from
Hetalia
with a bunch of my close friends :)
The con itself wasn't all that exciting, but it was nice to see a noticeable improvement in organisation for this year as well as managing to find a decent solution to deal with the layout of the space. I didn't manage to take many photos of other people other than friends who I bumped into but I got to say hi to people I met through anime cons (along with Jasmine, our favourite Spotlight customer service person lol).
Anyway, so here are some photos we took during the day: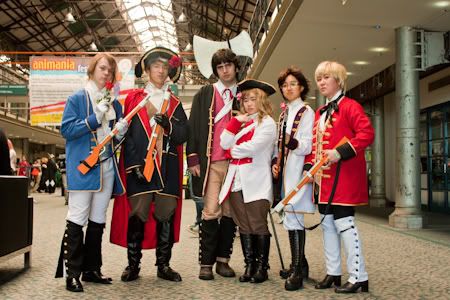 France (Francis Bonnefoy)- Toby
Prussia (Gilbert Weillschmidt)-
waitupforgodot
Spain (Antonio Fernandez Carriedo)-
neotacoi
Hungary (Elisabeta Hedervary)-
evennexsoul
Austria (Roderich Edelstein)-
shorelle
England (Arthur Kirkland)-
eur0philia
(
SEIZING OF VITAL REGIONS THIS WAY...
Collapse
)
PHEW. ALL DONE. LOL.
It was fun to wear 18th century military uniforms lol...and also carrying around musket rifles ^^
Also congratulations to the Sengoku Basara group for winning Best Group :D I knew you guys would! *flail*